7 Soulful Indie-Folk Rock Tracks
Soothe the Spirit
1.  "Thirsty" by B.R. Mackie from In Folkedelic Country:
B.R. Mackie details the difficulties of the struggle of life and the ease of quenching one's thirst the old fashioned way – through a bottle. However, the heartfelt vocals note that giving in to the thirst for the bottle will just leave a person lonesome. The lyrcis say:  "Because I'm caught on the wrong side /
Of new morning's light /Like I'm stranded in your doorway /And I'm finding out the hard way / That the bottle's all but dry / I do believe I will go thirsty."

Click HERE to purchase on BandCamp.
2.  "Sophia" by The Big Quiet in Warehouse Sessions:
ElephantStomp said, "…it's nice to hear some music that can mesh a legitimate lyrical depth with upbeat and expertly crafted melodies. 'Sophia' is an instant favorite and a perfect capstone to the progressive storytelling and logic that subtly undergirds [sic] the whole album" (iTunes). Click HERE to visit The Big Quiet's website. The Big Quiet's Self-Titled Album is available on iTunes for $5.94. Click HERE to purchase.
3.  Breadwoman & Other Tales by Anna Holmer and Steve Moshier:
The artist describes Breadwoman as a being outside of time, almost like a culmination of genetic messaging in which one absorbs lessons of an interwoven human development. Dabbling in dimension, meaning, and primal lore,  "[Breadwoman] captures the ritual of youthful meaning-making through sacred voices, minimal electronic gauzing, and a fable that haunts and humors" (BandCamp). Click HERE to purchase on BandCamp.
4.  "Ugly Brunette" by Horse Jumper of Love from Self-Titled Album:
Camryn Marquez said, "[Horse Jumper of Love] knows that at the essence of slow, indie rock lies the ability to make the listener feel a very contemporary version of morose that stems from a very pragmatic source- whatever that source is" (BandCamp).  Click HERE to purchase on BandCamp.
5.  "Wet Food" by Stove from Is Stupider: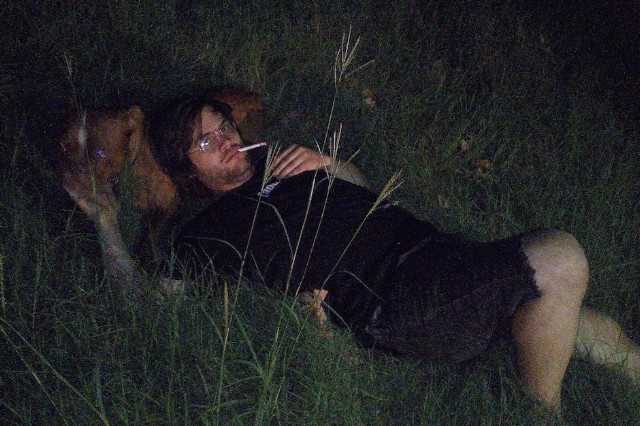 Steve Harlett began the solo project, Stove, after former band, Ovlov, broke up. Bryn Lovitt said "[Hartlett's] first album as Stove boils slacker-rock riffs that could have come from an old Pixies or Dinosaur Jr. record into a pummeling Gen-X storm, with waves of distortion pounding the singer until it sounds like he might break" (RollingStone).  Click HERE to purchase on BandCamp. Click HERE for Stove's bio c/o Exploding in Sound Records.
6.  "You Can't Live There Forever" by The World is a Beautiful Place & I am No Longer Afraid to Die from Harmlessness:
Band bio reveals that multi-layered techniques are used with instrumentation to include heavily effected guitars, strings, synth, and trumpet. "The band's sound is easily compared to second wave post-emo indie rock bands of the late 90s and early 2000s and their atmospheric moments are often tagged as "post-rock" (TopShelfRecords).  Click HERE to purchase on BandCamp.
7.  "Parlez-Nous a Boire" by Sweet Crude from Super Vilaine EP:
Sweet Crude brings the heart of New Orleans, showing society that NOLA music doesn't end with street jazz bands. Sweet Crude bends American culture to expose delights in diversity. Josh Frick said, "[Sweet Crude] expertly combine funky indie pop with traditional Cajun folk. I've never heard anything like them" (BandCamp). Click HERE to purchase on BandCamp.
Shout to Sources:  Northside Festival 2016, BandCamp, Top Shelf Records, iTunes, YouTube, RollingStone, ExplodinginSound